18th Week
How far along: 17 weeks 6 days (starting my 19th week tomorrow)
How much do I weigh: 50,4 kg (+1,6 kg) (ok, I ate lunch every day last week and last night we went out and I ate a huge burger with french fries and a side salad)
Belly size: I think it's huge, especially when I don't hold in my stomach.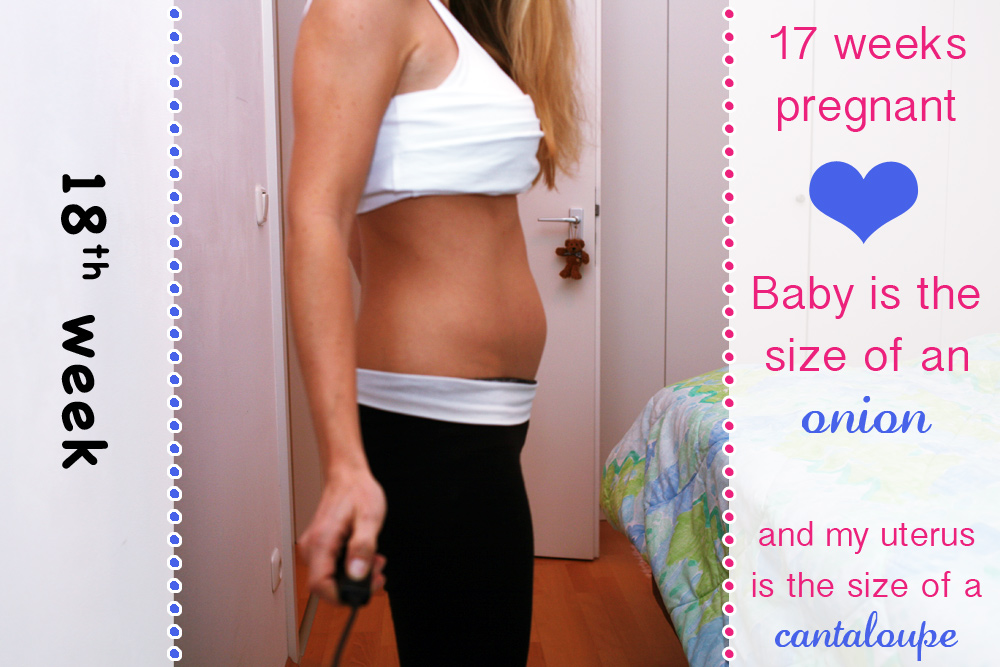 Belly button in or out: In
Sleep: Been good!!
Food (non) cravings: Nothing special. Healthy food cravings, but also sweets.
Symptoms: Cramps and some pain in my belly
Maternity clothes: Always!
Stretch marks: None yet, I guess
Miss anything: For breakfast on the weekends I miss not being able to eat salami sticks from our whole food store.
Looking forward to: The next ultrasound in 4 days. Also, in two days it's October 21, 2014 which means my due date is in exactly 5 months!
Best happenings this week:
I officially have a midwife and I'm going to meet her in five days. I'd like her for my after-care so she can help me breastfeeding and give me tips. On the phone she sounds very nice and friendly, she's experienced, she just went on a retraining and she lives right around the corner.
One of my co-workers wants to get rid of a baby changing table so we're getting that (it's a dresser as well) from him for 35 EURO. Now pretty much the only thing we need to spend more money on is the stroller.
A female colleague of mine looked at my belly this week and said that now you can really see I'm pregnant. She looked at me and asked "are you having a boy?" and I answered we don't know 100%, but why does she ask if we're having a boy? She answered that my skin is so nice and my face looks so good and that that's a sign that I'm having a boy. If I'd be having a girl I'd have more pimples. She said she's normally right about her guesses so we'll see.
I chatted with my mom on the phone, my parents are on vacation, we only e-mail each other so it was nice chatting with her again. Hi Mom and Dad 🙂
I bought two "maternity" long sleeves yesterday. But, they are non-maternity, they are just regular tops, the one is a bit wider around the belly and the size S was too big so I had to buy XS, which made me feel good 🙂
Movement: Well, I don't feel anything on the outside, I sometimes feel something in my belly but it's hard to say if that's really the baby or just my dinner moving it's way down…
Gender: We will know in four days 🙂 Still thinking it's a boy!
Happy or moody most of the time: Happy but also worrying about the future at times.
Sports: Nope 🙁 Shame on me. The last time I've been to the gym was a month ago. I'm planning *cough* on going *cough* today though.
The weather here this weekend is amazing