Week 16
How far along: 15 weeks 4 days
How much do I weigh: 49,9 kg
Belly size: For me, my belly is huge! But now, looking at this photo – not so much. Damn…

Belly button in or out:
In
Sleep:
I wake up once or twice a night, not necessarily needing to go to the toilet though.
Food (non) cravings:
The usual
Symptoms:
I was sick with a cold this week. No pregnancy symptoms, only cold symptoms.
Maternity clothes:
Seeing I stayed at home from work all week I had on sweat pants every day. Feels so good 🙂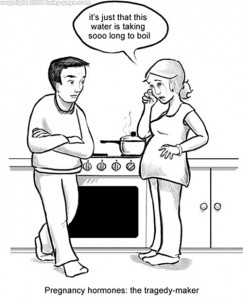 Stretch marks:
Nope
Miss anything:
Being healthy! I ha** being sick!
Looking forward to:
Going shopping for maternity clothes, which Mom and I did on Saturday. I got some boot cut jeans, some black pants and a few tops. Some maternity tops are so huge though, and ugly, you wonder who designs those clothes. I also got a pair of black boots which I've been looking for a longer time now. Then we had Thai lunch 🙂
Best happenings this week:
Not waking up thinking "I want to rip my head off" – good feeling.
Movement:
Nope
Gender:
I still think the babe will be a boy.
Happy or moody most of the time:
This week? Not a good question. I had way too much time to think about the future and way too much time to read baby magazines (about the birth!!) so I had the regular panic attacks and drove my fellow human beings crazy. My boyfriend asked me "What is wrong with me???" which made me laugh and answer "Duh – I'm pregnant?? Hormones etc.?? Welcome to Reality" 🙂 I guess men just don't get pregnancy vibes as much 😉
Sports:
None – for months it seems 🙁