How much do I weigh: 50,5 kg – stays pretty much the same
How much does Quinn weigh: around 8 kg
Belly size: Still eating too many sweets… I can't stop either. My excuse is all the rough nights of not very much sleep 🙂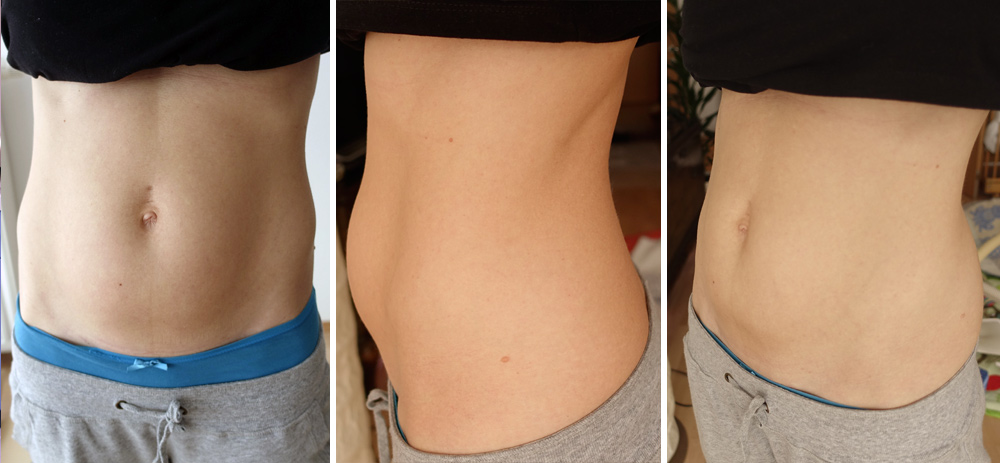 Wow, it really seems like my belly doesn't change at all. I have eight weeks strength-endurance behind me and am building muscle now for the next ten weeks. Let's see if my belly changes in 8-12 weeks…
Sleep: Not that good. He used to come at 21:30, then 0:00 continuing about every two hours. I skipped one breastfeeding meal and he came every three hours the last week. Since about three nights he switches, once he comes after two hours, I feed him, then he sleeps three hours. Currently he's in a phase where he's wide awake in the middle of the night and it takes me 15-30 minutes to get him back to sleep. Today he woke up at 4:30 and we got up at 5:30 *sigh*.
Symptoms: Still have the yeast infection after every period since giving birth due to a lack of vaginal flora and about a week ago I made a 6-day therapy with uvulas.
Maternity clothes: Not anymore.
Miss anything: Still sleep at times
(Best) happenings:
Quinn makes peek-a-boo
I still breastfeed during the night
He eats with us while sitting in his highchair
He is sleeping in his own bed in his own room
Falling asleep works very well, I sing "you are my sunshine" and "I only want to be with you" while he's in my arms, put him down after and he either plays a bit with his sheet or binky or is sleeping already
He started saying Mamamamama, sometimes only Mama
Once, in his lifetime of 10 months on this planet, he fell asleep on his belly
We visited a Baby-concert
Sports: I got a new trainings-plan for building muscles and had my second fitness check at the new gym.