31st week
How far along: 30 weeks 6 days
How much do I weigh: 56,8 kg (+ 8 kg)
Belly size: Growing and growing 🙂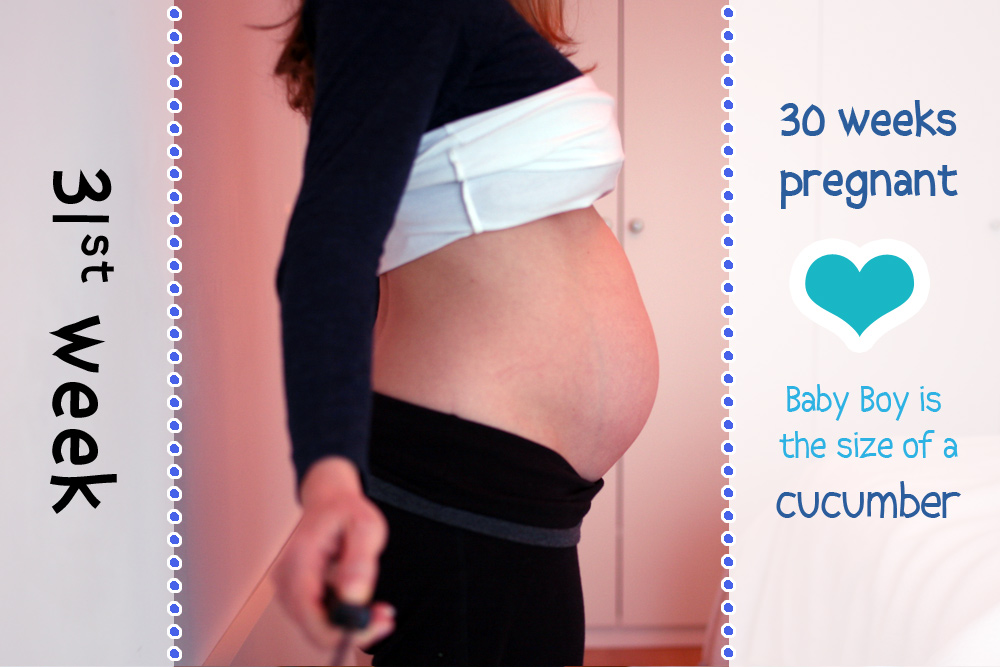 Belly button in or out: In / Even
Sleep: I get up once a night at mostly the same time, 3:00 am
Food (non) cravings: pickles
Symptoms: sometimes lower back pain
Maternity clothes: always
Stretch marks: none
Miss anything Things I don't miss:
Getting my period each month and bleeding 7+ days
Getting pretty bad PMS each month
To make my belly look slim after I've eaten a big meal
Looking forward to: Seeing the stroller we bought. We have never seen it live before as it's a new model, first coming to the stores in 2015. We ordered on Wednesday because we were told it can take up to eight weeks for it to come and well on Friday (so two days later) we get a call from the store – our stroller is already there 🙂
Best happenings this week: This last week was quite busy
Monday: Met with the doctor who will be delivering our baby.
Tuesday 4pm: Visited the nursery next door. We were four moms and one dad at the information-afternoon that day. The manager told us all about the nursery and then we all registered our (born) little babies. We'll get informed sometime in April / May if we get a place for the time we wished for. I registered our little baby-boy for March 2016.
Tuesday 5:30pm: Had my first prenatal course. We are 16 women! It was good, quite long I thought but it's nice to be with a midwife and 15 pregnant women and just talk about pregnancies, babies and the birth.
Wednesday: We ordered a stroller and a car-seat
Thursday: Went to the gym
Friday: Had an OB appointment. Little peanut didn't show us his face but he's 1,5kg and everything is just fine. He's got 7cm big feet! My cervical length is a bit reduced so the doctor wants me to take my maternity leave two weeks earlier than planned, which means that starting tomorrow I'll be working my last week!! I'm not allowed to go to the gym for two weeks and I should not have s*e*x (bummer 😉 ) the next two weeks
Movement: A lot, yes 🙂 Mostly his back is laying on the left side of my uterus and he's kicking the right side of my body.
Gender: He showed us his genitals very nicely on Friday. Two big balls, one little thingy in the middle.
Happy or moody most of the time: Happy
Sports: I went to the gym twice this week but have to stop for the next two weeks. I can go for walks though, let's see if I'll do that.