How far along: 31 weeks, 1 day
How much do I weigh: 57,7 kg (+8 kg)
Baby size: around 1,8 kg, OBGYN said it'll be around 3,5+ kg at birth, the boyfriend's genes are coming through
Belly size: Very big, very low, very round. The circumference (2cm under the belly button) is 99 cm and from top to bottom it's 40 cm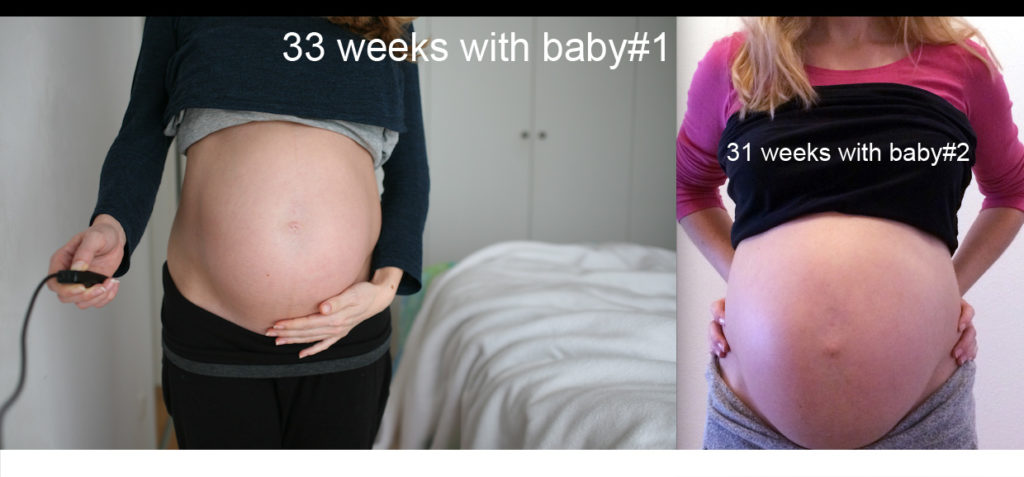 Belly button in or out: in/even/out
Sleep: Not good. I wake up at around 3 or 4 am and cannot fall asleep anymore until around 2 hours later
Food (non) cravings: Nothing special, seeing the baby is rather big I should cut down the fast sugar
Symptoms: cannot sleep, big belly is in the way, braxton hicks
Maternity clothes: everything always
Stretch marks: none yet, found two tiny spider veins on my left side of the belly
Linea negra: still not
Miss anything: goodies
Looking forward to: having time for myself
Best happenings this week: OBGYN appointment today.
CTG: all fine, heartbeat around 135 and 150, most of the times around 145
My Blood Pressure: 100 / 60
Cervix: closed
Baby's weight: around 1,8 kg (3 pounds 15 ounces)
Amniotic fluid: all good, not too much, not too less
Baby's position / Fundal height: Back is on my right side
Baby's head: down
Movement: very active, hurts at times, lots of hiccups
Gender: sometimes I think it'll be a girl, sometimes I think it'll be a boy. This pregnancy is quite different than the first which makes me think GIRL. Then I think well it's the second pregnancy, of course all is different – BOY.
Happy or moody most of the time: Happy
Sports: Gym twice a week