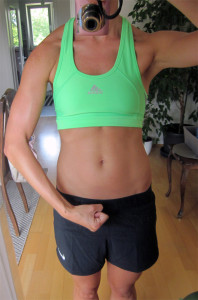 Yesterday I had my first fitness-check, which means:
resting ECG (Cardio Scan)
body fat measuring
BMI measuring
biking until a heart rate of 140
It all took about one hour. Here my results
resting ECG

Not that good, I have a little cold and you notice. My heart beat was at 80, which is quite high. I remember measuring my heart beat a few weeks ago at work and I had 60. My fit level with that rate was at 2, with 1 being the lowest and 10 being the highest. Yikes! My trainer said it has to do with less sleep (check), stress (a little), being sick (having a cold – check)
body fat measuring
Body fat: 16,8% I was quite surprised. I let my boyfriend measure with a Skinfold Caliper and my result there was 23%. At the gym they measured with a Near-infrared interactance. No idea what is the safest way to measure body fat…
BMI measuring
18,7
biking until a heart rate of 140
I was in the area between "very good" and "very very good". I warmed up five minutes, then had to bike at the same speed for one or two minutes with increasing inclination until I reached a heart rate of 140. Then cool down and my trainer wrote down my heart rate after one minute, after three and after five. Then some calculations followed and my result was 2.6 (whatever unit).
I'm happy with my results, the next check will be in three months.