My first weight trainingsplan goes from November 1st to December 12th 2013. I slowly, slowly increase on weight, yet I have to keep in mind that 15 repetitions is quite a lot! My trainer knows I want to gain muscle so I hope my next plans will slowly go from less weight / more repetitions to more weight / less repetitions.
Currently (I still do the strength circuit as well):
Butterfly: 2 x 15, 10 kg
Pulley sitting: 2 x 15, 15 kg
Pulley standing: 2 x 15, 8 kg
Bizeps pulley: 2 x 15, 5 – 7,5 kg
Trizeps pulley: 2 x 15, 5 – 7,5 kg
Calves with dumbbells: 2 x 15, 8 kg
Adductor: 2 x 15, 30 kg
Abductor: 2 x 15, 30 kg
TRX crunch: 2 x 15
Crunch sideways: 2 x 15
Total Abdomen: 2 x 15, 27,5 – 30 kg
It's been 6 months since I joined the gym – wow! I'm happy to say that I've been to the gym very regularly. October was the only month I didn't go a lot due to business-projects and not being in town, but other than that there are hardly any gaps. My gym days are Monday, Tuesday, Thursday, Friday and either Saturday or Sunday (or both, if I don't go on Friday).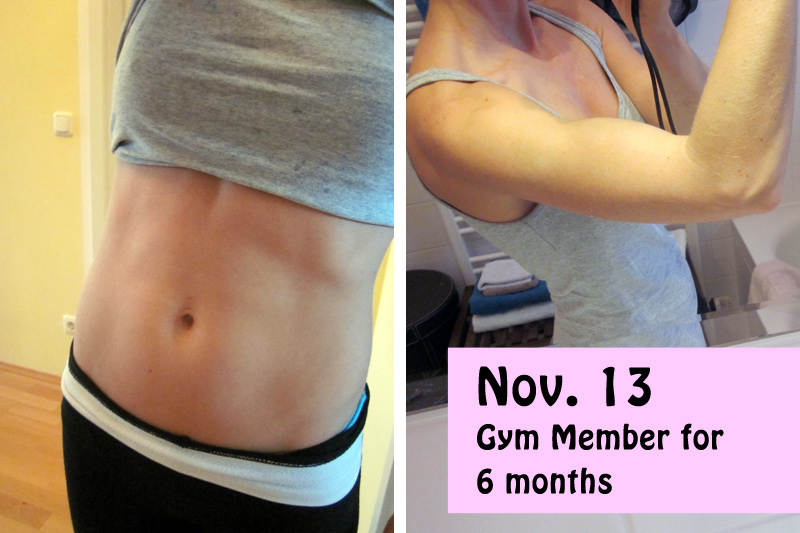 There's one big problem I'm facing though – I eat a bunch of sweets every evening. I, as a certified nutritionist, should know a lot better. I do know, I just can't resist. I know I shouldn't even buy that crap. I don't know for how longs it's been going (my sugar addiction) but I'm guessing since September. I buy too much sweets and can't stop eating them, which means an additional 500-1000 calories (whoa!!) every evening through sweets. 🙁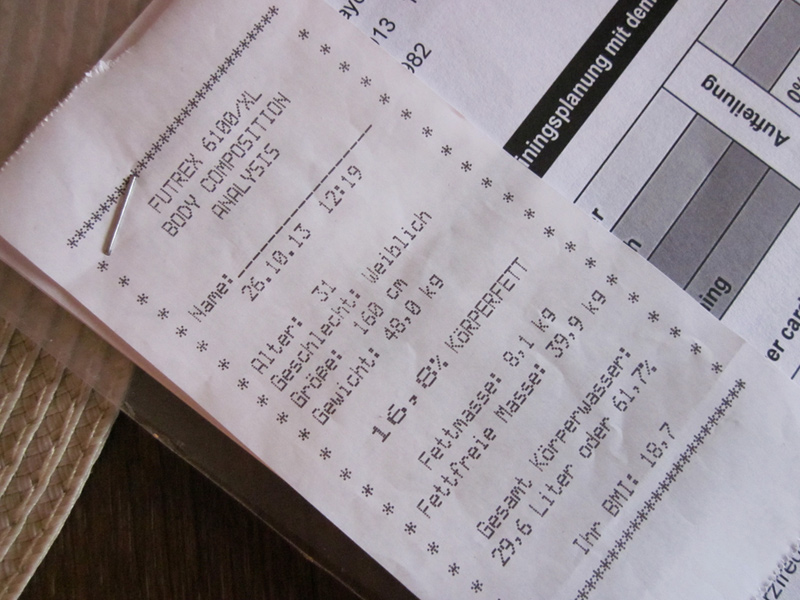 It's amazing I only have 17% body-fat, I can't even imagine that the machine is right… My belly, if I don't flex it after I have eaten, looks like I'm pregnant. It's a big ball. Also in the mornings it's a little too big for my taste, and I blame the sweets.
Ok, so, my next goal is to get those sweets out of my daily life. I eat healthy every day so I'm annoying myself that after the gym, after the shower, after dinner, on the couch, I walk into the kitchen and look for which yummy sweets I can eat. And it's not only one piece of chocolate, no, it's the whole bar of chocolate! Sigh, this will be hard…