22nd week
How far along: 21 weeks 6 days
How much do I weigh: 52,2 kg – let the weight gain begin (+ 3,4 kg)
Belly size: I'm loving it <3 [caption id="attachment_3094" align="aligncenter" width="1000"]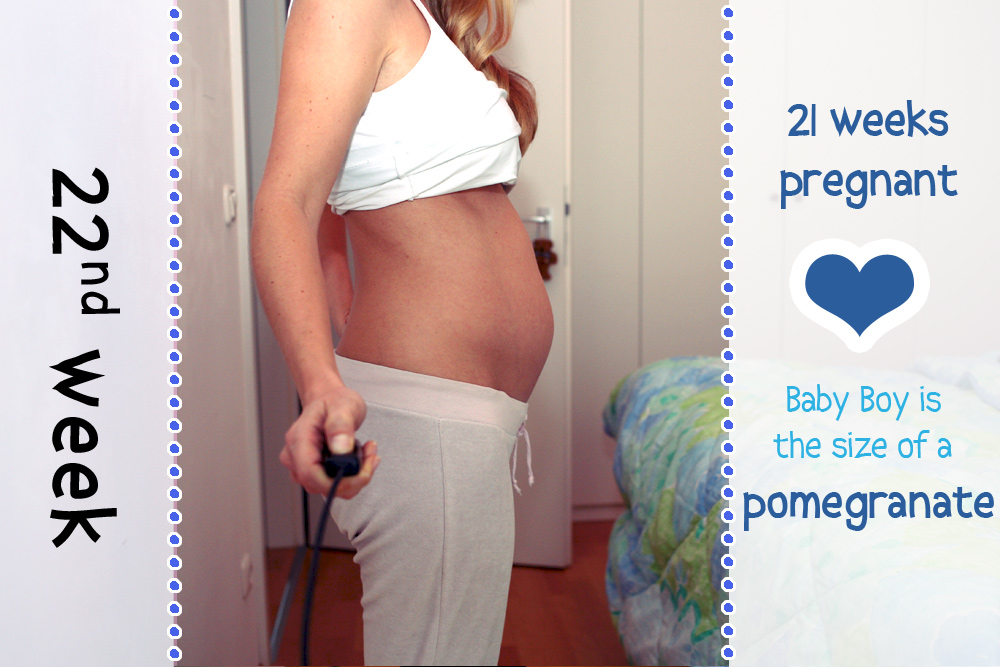 Baby Bump Week 22 – 21w6d[/caption] Belly button in or out: In
Sleep: Good with the usual once-a-night toilet visit
Food (non) cravings: The usual, nothing extraordinary.
Symptoms: None
Maternity clothes: Pants and I bought a classic sweat pullover with hoody and zipper for my expanding belly.
Stretch marks: Nope
Miss anything: No, I got used to eating cheese not made out of raw milk and not eating fish sushi and not eating different types of sausages like Salami.
Looking forward to: My next OB appointment in five days!
(Best) happenings this week: Luckily this week hasn't been too busy.
Thursday: We looked at hospital #2. A huge thing in the middle of the city. It's an teaching hospital and medically it's got everything. It's got an intensive care unit for babies which is a good thing. But I didn't feel comfortable in the delivery room and in the hospital generally. We'll see, we're planning on looking at two more hospitals.
Friday: We finally changed the tires on our car, we're now winter approved. We also went to the baby store again to get informed about the price on the stroller we're interested in. The bubby cooked a lovely Thai dinner for us.
Saturday: Rest day, I did go to the gym for 1,5 hours though, cross trainer for 20 minutes and a bunch of weights for shoulders, legs, arms, back. It felt good. The boyfriend and I made lasagne in the evening, so good!
Sunday: Nice German dinner at my parent's place. It seems like ages we all ate together (yes, it does).
Actually seeing our baby kick. It's amazing although I have to admit I'm a bit scared when big-boy has 1+, 2+, 3+ kg and is kicking the insides of my belly.
I figured out I only have 47 more days to work. Wow, that's less!! Can't imagine not working but I'll guess I'll get used to it. Plus I'll be having a baby then I'll want to spend every minute of the day with!
We've narrowed down our baby-boy names to 18 each.
Movement: A lot, mostly. And not only do we feel it move, we see how my belly creates bumps because the baby's butt or feet (or head? or nose?) is kicking against it. Loving it 🙂
Gender: Baby-Boy
Happy or moody most of the time: Happy. I'm pretty sure we decided on which stroller to get so that's one point less to worry (not that we ever worried). I'm moody (or annoyed) when it comes to people telling me that "at 5 months pregnant I didn't have such a big belly" or "your baby is getting to be a real chunk". I'm short (160cm) and petit. If I don't gain on my belly where else should I gain? Hips? Legs? Butt? My belly did grow rapidly from week 16/17 on, true, but I'm happy my boy is growing (and being neither too big nor too small for his "age"). But I don't like it in general when people compare people to other people. Everybody is unique – why compare?!
Sports: I'm going twice or three times a week for strength-endurance and cardio. I love how my tight gym-tops shows off my belly. I've never seen a pregnant woman at the gym before except me 😀