Today I went shopping, for clothes, which happens maybe once every two years. For regular clothes – not (only) sport clothes.
I did make the mistake of going to the sports department today, so I spent quite some $$ on sport clothes, which, of course, I really really need. Hey – Under Armour came out with new colors!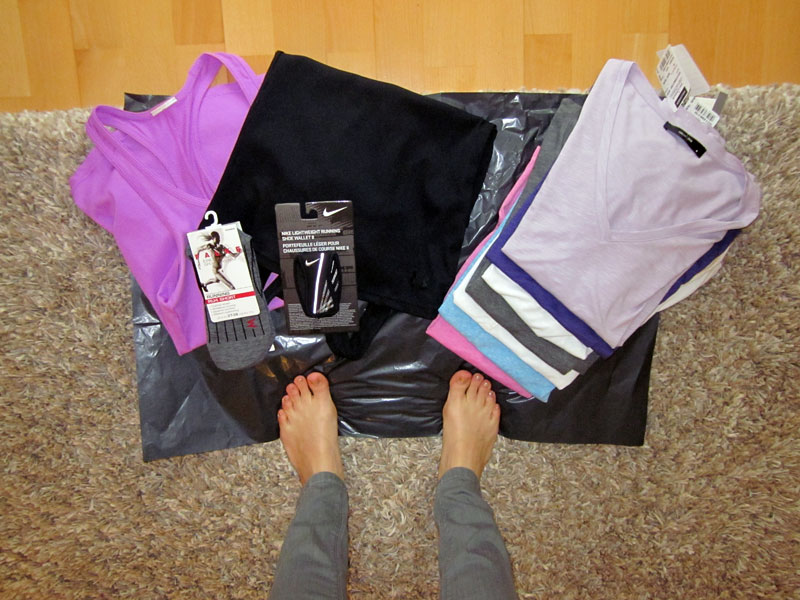 My closet has too many black t-shirts which annoyed me and got me all depressed. For spring I need colorful t-shirts so I went out to go hunting for colorful shirts. I bought a lot of colorful (well, one grey one but the cut was so nice – it's a bit wider) t-shirts, some white ones because I'm just a jeans & white shirt girl. One Under Armour T-shirt in blue which I will wear not for sport.
I bought two sport tops, new running socks, a "tiny bag to put on your shoe" and that's it in the sports department. I actually only wanted to buy the socks, but oh well, while searching for them I came across all the other pretty things.
I also bought a pair of skinny jeans – I don't like skinny jeans but it's pretty much the only style you find around. And I bought grey skinny jeans, I like grey skinny jeans, I think they look good with chucks or ballerinas or flip flops. I wanted grey pants in a long time.
After my big shopping tour (in only one store) I took the train to the east center station of the city and stopped by the newly opened Dunkin' Donuts.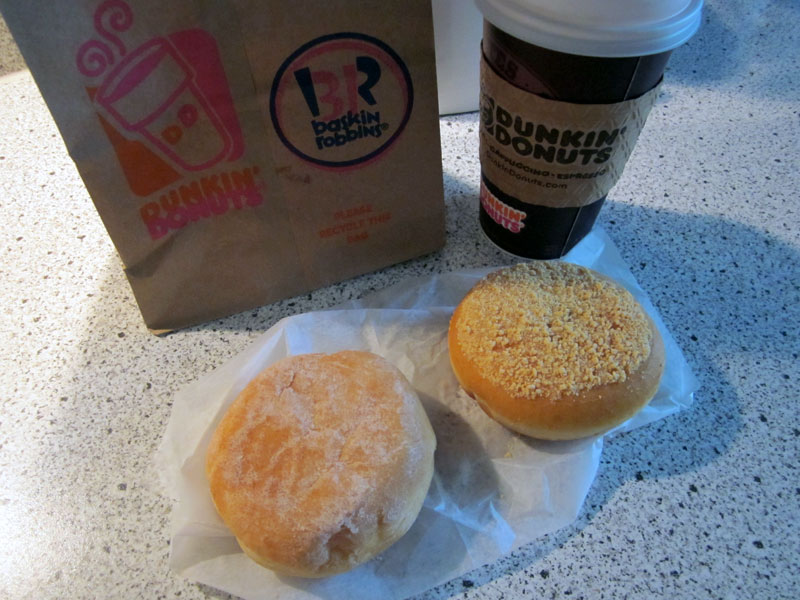 I was a bit swamped by the selection so I took a medium milk coffee (16 oz – wow, that's almost half a litre!!) and a blueberry-crunch and apple-cinnamon doughnut. I was too scared to take one of their very colorful doughnuts.
Not that I ever went there while living in Austin, Texas, but I still wanted to check it out any eat something American :). While living in Texas I went to Baskin Robbins, Amy's Ice-Cream, Starbucks, Dairy Queen sometimes… ah… the good American food, I miss it. But then again, if I'd have it here, I'd be fat. So it's good that it's far far away.