29th week
How far along: 28 weeks 6 days
How much do I weigh: 55,8 kg (+ 7 kg) I know I'll scratch the 60 kg but I hope not to go over. We'll see. The babe will gain 2 – 2,5 kg for sure and something in my body will probably gain as well, probably the fat! The amniotic fluid isn't getting more, I read that, I'm not sure about my uterus. My boobs might still get bigger.
Belly size: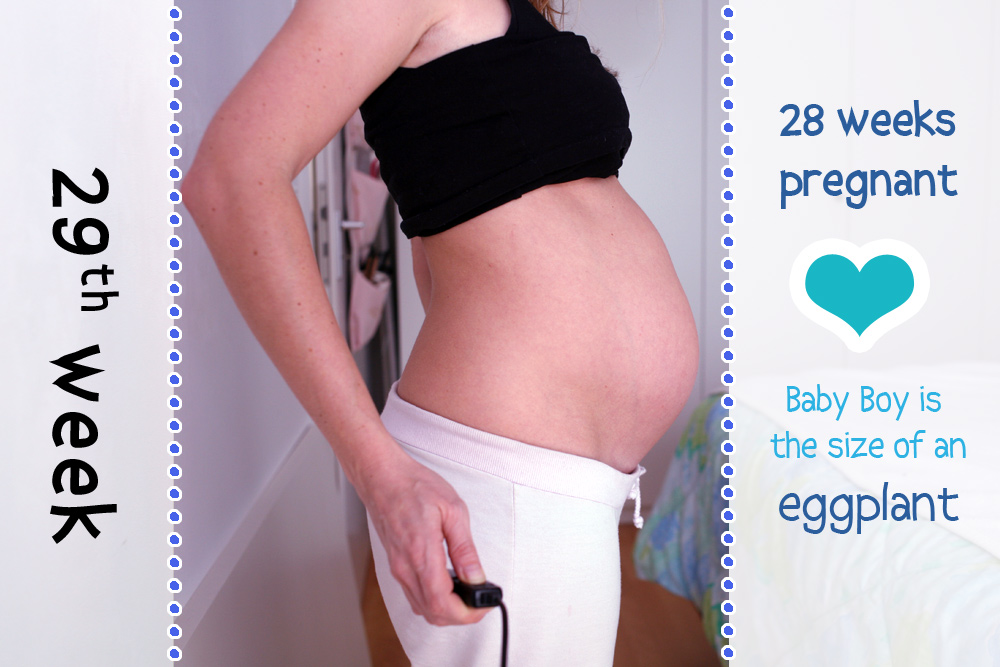 Belly button in or out: Half half, still more in though
Sleep: Quite good. At the moment I don't have to run to the bathroom when I wake up, I just wake up and lay awake for some time, but not every night.
Food (non) cravings: Meat
Symptoms: I'm becoming a stick-in-the-mud more and more. Even to just turn from one side to the other side in bed seems like an effort. I'm happy for my UGGS.
Maternity clothes: I got some new tops from a friend, some warm pullovers. Bought one new pullover at H&M in size S which kinda looks like a sack but I'm pretty sure it will fit me in March as well. Seeing I don't want to spend a lot in maternity clothes I'm ok with not feeling too good in the clothes I'm wearing, but they're not that bad either.
Stretch marks: Nope 🙂
Miss anything: Every week I think of something I might miss but really, this whole pregnancy till now I haven't really missed anything. It's a different lifestyle, it's temporary and I've been adapting myself to it. Of course I prefer my power workouts where I come out of the gym-room all sweaty but I'll be able to hopefully do that a few weeks/months after my birth. I've got different priorities now like not getting my heart-rate up too high so I'm ok with my current lifestyle. As long as our baby is doing fine I'm doing more than fine.
Looking forward to: Buying a dryer
Best happenings this week:
Well, we bought a new TV which wasn't expensive but is quite big (40"). Watching Homeland, the Big Bang Theory and different documentaries on the "big screen" is really quite a pleasure (we watched them on a 13" laptop before). Plus now we can finally listen to music and not only on the laptop! I love listening to music 🙂
It snowed – lots! Sooooo pretty. Now it's raining again and way too warm so the snow is melting again. It was nice as long as we had it.

Bought another cute outfit for Baby-Boy Bruno

Movement: <3 <3 <3 Gender: Baby-Boy Bruno (in-uterus name 🙂 )
Happy or moody most of the time: Happy
Sports: *cough* still on my Christmas vacation and enjoying doing nothing at the moment.