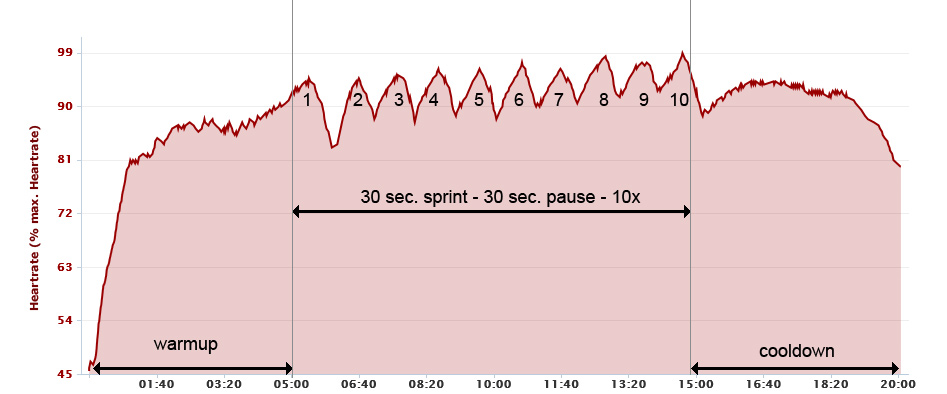 How I do it
5-minute warmup at around 8 or 9km/h (5 or 5.6mp/h)
30 second sprint between 15 and 16 km/h (9.3 and 9.9mph). I usually start at 16 km/h and go down each sprint.
30 second pause (I let the treadmill go fast while I lift my body up with my arms and spread my legs to each side of the treadmill)
all in all 10 times sprinting
after 14 minutes 30 seconds the cooldown begins
5 minutes 30 seconds cooldown at 9 to 7km/h (5.6 to 4.4mp/h)
I do 30/30 sec. because it's easy to monitor, you sprint/pause at either a half or a full minute.
Why I prefer HIIT on the treadmill
you sweat, a lot!
after every sprint you are so looking forward to the next 30 second pause
the 20 minutes go by fast
it's short
it's not as boring as running a constant speed all the time (running on a treadmill is sooo boring)
it's exhausting
it's a short effective training
I love the sweat!
I love being out of breath!
I always monitor my pulse which goes down to around 85% – 88% of my max. heart rate after each sprint. My top rate is between 95% and 99% for a few seconds. If I make a pause of one minute my heart rate goes down to about 70%.
When I go jogging outside I sometimes do some sprints, sometimes not.